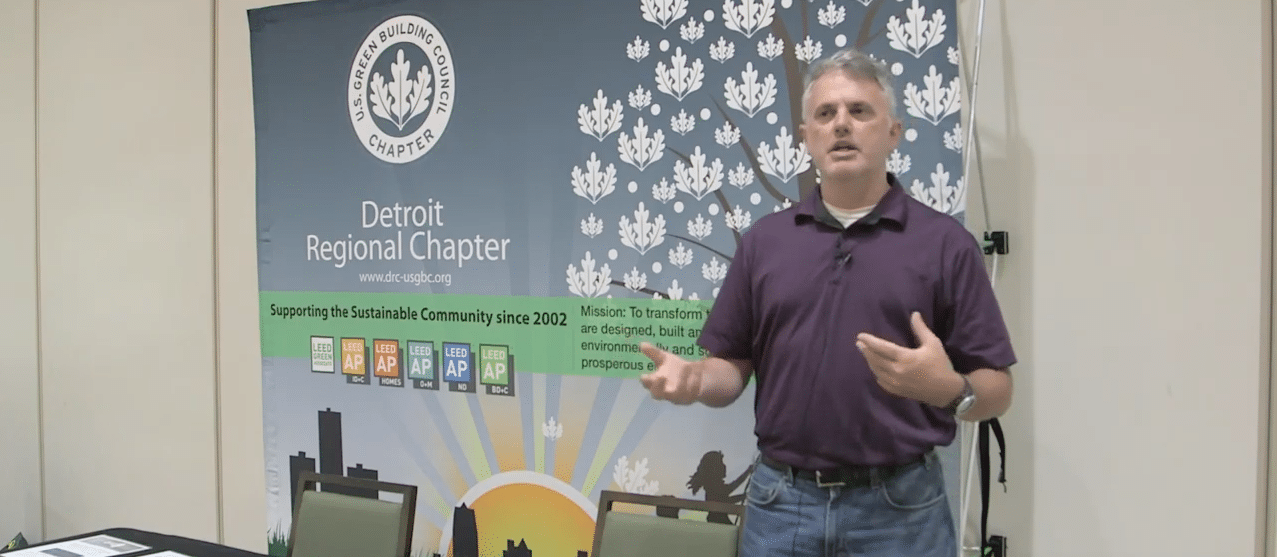 "Green buildings have up to a 20 percent higher occupancy rate. those tenants enjoy a much healthier environment, as leed buildings have cleaner, healthier indoor environmental quality. they also tend to be more productive. a recent study in the journal of organizational behavior found that companies that adopt more rigorous environmental standards are 16 percent more productive than those that don't." — Kevin McNeely
Kevin McNeely is an independent, certified rater and energy modeler serving Michigan and parts of Ohio. In addition to home energy audits and code compliance testing, Kevin offers home performance consulting for a number of certifications, including RESNET HERS, ENERGY STAR, DOE Zero Energy Ready, Enterprise Green Communities, and LEED for Homes. Kevin is very involved in local and regional policy and implementation groups. See Kevin speaking about The Triple Bottom Line. 
History & Background
Kevin McNeely spent seven years in the energy efficient home construction industry before moving into consulting back in 2008. He joined the U.S. Green Building Council (USGBC) and began consulting for Net Zero and LEED for Homes. Since then, he has earned a reputation for helping contractors develop high performance homes. Now he offers consulting for any type of building certification. Kevin also offers consulting for energy efficient multifamily housing.
Memberships & Expertise
Kevin enjoys staying up to date on the latest industry trends and remains an active participant in the building science and home performance industries. Since 2015, he has served as the Chair of the Board of Directors for the Detroit chapter of USGBC. He also participates in the Detroit Climate Action Collaborative and the HOPE Village Initiative of Focus: HOPE.
Certified Rater & Energy Modeler
When Kevin isn't out on the road keeping up with things at industry conferences, he's working as a certified rater, energy modeler, and consultant with McNeely Building Group. He offers unbiased, third party consulting for builders, contractors, and homeowners throughout Michigan and parts of Ohio.
Looking for a third party energy auditor, code compliance tester, or home performance consultant? Call (248) 677-6508 or get in touch to schedule a meeting with Kevin!